Swimming lessons
Our Learn to Swim sessions run from 3pm to 4.30pm on Sundays at Charterhouse Pool in Godalming.
Our lessons follow the curriculum set out in Swim England's National Plan for Teaching Swimming (NPTS). This covers all four main recognised strokes, including general water skills. The initial focus is on stroke technique, expanding in later lessons to include speed work and core skills (diving starts and turns).
Swimmers in our lessons must be aged 5+ and must already have achieved NPTS Stage 1 (or be swimming at that level). This typically means that they can swim unaided for 5m on their front and back.
We use the main pool which is a 25m competition pool at Charterhouse pool. The younger swimmers in the lower groups will have swim teaching assistants in the water with them and their lesson happen at the shallow end.
Class
NPTS Stage
Sessions/week
Sunday
Pool
30-1
30-2
2 & 3
1 x 30 minutes
3.00-3.30pm

Main pool

60-1
4
1 x 1 hour
3.30-4.30pm


Main pool
60-2
5
1 x 1 hour
3.30-4.30pm
Main pool
60-3
6
1 x 1 hour
3.30-4.30pm
Main pool
60-4
7
1 x 1 hour
3.30-4.30pm
Main pool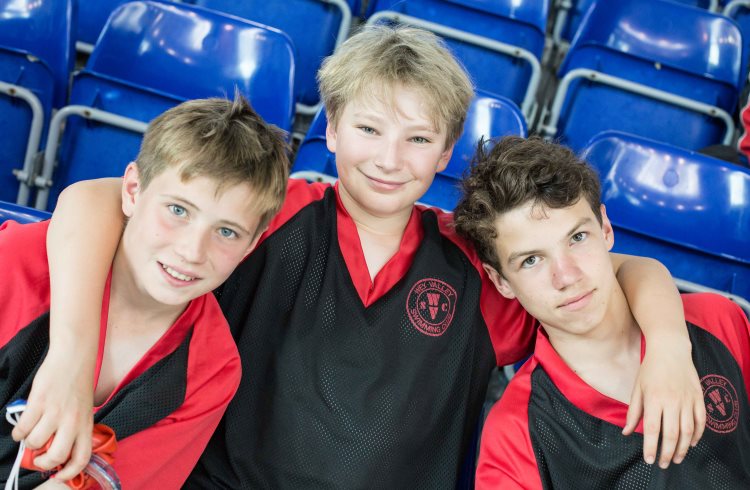 The two 30-minute lessons are at the same level, both covering NPTS Stages 2 and 3. The 60-minute lessons are progressively more advanced.
We also run an additional booster session for 60-3 and 60-4 on Wednesdays 6-7pm at Godalming LC; this is open to swimmers in the top two teaching groups, and helps them to progress more rapidly. Please let's us know if you want to join this session in addition to the main Sunday session.
When swimmers have completed NPTS Stage 7, there are two paths open: to join the competitive side of the club, or to sign up for our swim sessions for fitness.